Nowadays, smart locks have a variety of functions. The rich functions are more in line with our modern life rhythm, which makes us more secure and safe. So, do you really understand the characteristics of it? The following details for everyone under the silver crown smart lock features.
Silver Crown smart lock features
Door lock appearance material
The panels and handles are made of stainless steel, which has better panel strength and handle strength than other brands of hotel lock materials, and is more resistant to damage and has a longer service life.
Door lock surface treatment
Adopt Japanese nano-materials, do not fade.
Cylinder wear-resistant material
The first powder metallurgy material clutch, refused to card the motor.
Free lock cylinder design
When the clutch is closed, the handle is stressed, and the anti-malicious handle is damaged to damage the inner cylinder.
Do not disturb
After the guest unlocks the door lock, the red LED will flash red, which means "do not disturb" and prompt the waiter.
Mainboard innovation process
The introduction of international electronic door lock special thick film integrated circuit technology, will be applied to the smart lock, so that the product has a good moisture, waterproof, dust, seismic, anti-aging properties.
Appearance characteristics
Simple and elegant, it incorporates elegant art elements, fashion guides
Data interface function
Provide dynamic link library that can be combined with any hotel management system at home and abroad to realize the sharing of hotel information resources. chip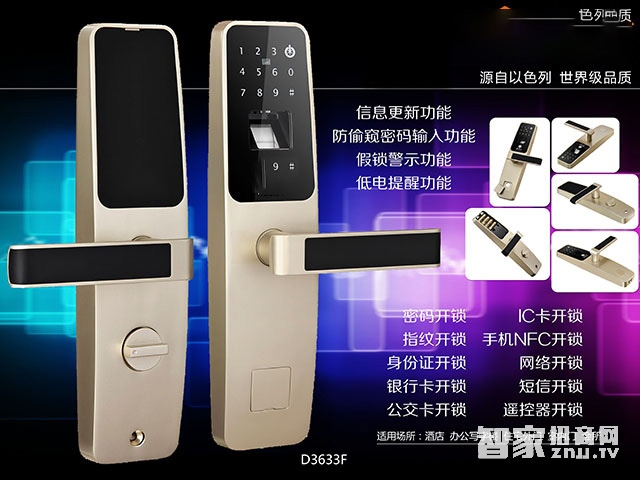 Silver crown smart lock product parameters
Power supply: DC 4.8V-6.4V, four 1.5V LR6 high performance alkaline batteries;
Static current: <15 microamperes; Dynamic current: <120 milliamperes;
Storage temperature: -20~+85°C; Storage temperature: 10~85%RH: Working temperature: -20~+60°C; Working temperature: 15~85%RH:
Induction frequency: 125K Hz; Sensing distance: 45mm
Alarm voltage: 4.8V, the red light is on when the door is opened, the buzzer alarms, and about 50 times can be opened at this time;
Silver Crown smart lock is indeed a smart lock that is very good to use, complete functions, good protection performance, very convenient to use! In line with our current life requirements. Thank you for your visit
Related browsing
Article: Easy-to-Use Smart Home System - Introduction to the Best Smart Home System
Recommended: IoT smart home smart home app wireless smart home
WIFI Smart Lock (http://zns.znjj.tv)-Professional smart lock agent joining website, providing the industry's most comprehensive intelligent fingerprint password lock joining agent, smart lock product library, smart door lock price, smart lock brand , smart lock manufacturers Daquan information, welcome to browse online consulting.
Stainless Steel Wire Mesh,Stainless Steel Mesh Screen,Steel Woven Mesh,Wire Fabric Filter Mesh
Xinxiang Xin Ming De Machinery Co., Ltd. , https://www.xmdsieve.com